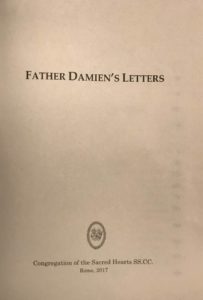 Molokai History:
(taken from "Father Damien's Letters", Congregation of the Sacred Hearts SS.CC., Rome, 2017)
Letter dated August, 1873 from Fr. Damien at Kalawao to his Superior General:
(continued from June 20th)
Beyond the leprosarium, I have to visit the whole island, which in length is two days travel. There is neither chapel nor house for the priest; there are about 200 Catholics scattered about. During two visits, I have had the honor of baptizing about 25 adults and infants. A good number are catechumens. We are preparing ourselves to build a chapel and a presbytery in the principal area of the island where the mission has a good piece of land [Kaluaaha]. I therefore ask you, very reverend Father, to please take into consideration the very difficult circumstances where I find myself.
I am totally alone in this island. For me to go to confession I need to go to Honolulu, which for a bad sailor like me is not very agreeable. Seasickness weakens me astonishingly. Besides, I am so insufficient for the work that the need for a second priest is urgent.
Knowing your devotion to the missions, I will not over plead the case my reverend Father, for you to decide to send us a number of good young missionaries; know that we need a few good men, if not scholars, at least saints, priests to sacrifice themselves at all times for the salvation of the poor.
When I have preached 4 or 5 times in one day, I can appreciate the image of a canal that comes from a reservoir run dry. Please pray and have others pray for me and for my beloved leprous parishioners that with God refilling every day the reservoir of my heart with his graces, I may be able to let it flow also in the hearts of those whom I regard as my children in Jesus Christ.
The number of baptisms in three and a half months goes up to 83, beyond the 18 that Father Boniface baptized here in the month of March.
(to be continued)
Blessings, pono and pule!
Fr. Brian Guerini, ss.cc.
Priest
Molokai