115 Ala Malama Street Kaunakakai, HI 96748  ph: 808-553-5220 fax: 808-553-3534
Stay current with all the on going events in the St. Damien Catholic Community by following them on St. Damien Catholic Church Facebook Page 
If you would like to register with our parish community, you can download the Parish Registration form by clicking on this link, print it, complete it and deposit your registration form in the safe at St. Damien Church (inside wooden doors to the left of candle holders) or place in the Offertory Basket at Mass at any of our churches (Our Lady of Seven Sorrows, St. Damien or St. Vincent Ferrer).
The St. Damien Parish now has a You Tube page .  Subscribe to it so as not to miss out on any future recordings of parish events. You can also visit the St. Damien Parish blog to read words of inspiration and interesting articles that relate to the story of leprosy in Hawaii and the history of Catholicism on Molokai and in Hawaii and other topics of faith and spirituality.
For parishioners of St. Damien of Molokai Catholic Parish, you can now make donations directly to our parish online at the St. Damien Parish  web page.  
The St. Damien Parish of Molokai could use your help by way of donations. This parish community is unique in many ways. It has four church buildings to maintain: the St. Damien Church in Kaunakakai, Our Lady of Seven Sorrows on the east side of the island, St. Joseph in Kamalo and St. Vincent Ferrer in Maunaloa. Our parish community is very small and most are on fixed incomes. You can help our parish community by sending in your tax deductible donation today. You can make your donation here via the Pay Pal button (you do not need a Pay Pal account to do so) or donate by way of a check made payable to: St. Damien Parish of Molokai and mail it to:



St. Damien Parish of Molokai
P.O. Box 1948
Kaunakakai, HI 96748
We thank you for your support!
Clergy: Fr. Patrick Fanning, ss.cc. (residence phone: 558-0109), Michael Shizuma, Deacon, Deacon Jim Krupa
In case of medical emergency and the priest is not available, please call Deacon Michael Shizuma at 553-5583
Are you planning to visit Molokai while celebrating a wedding anniversary? Why not renew your wedding vows at one of our masses? Why wait for for a 'milestone'? Every year is a milestone! Contact our parish office to make arrangements. What better place than here on Molokai to renew your vows?
REGULAR MASS SCHEDULE:
Saturdays: 5
:00 pm
, St. Damien. Doors will open one hour before mass.
Sundays,
7:00 am
, Our Lady of Sorrows (East End)
Sundays,
9:00 am
, St. Damien (Kaunakakai)
Sundays,
11:00 am
, St. Vincent (Maunaloa)
Tuesdays – Fridays,
7:00 am
, St. Damien (if the priest is not available, there will be a communion service).
During the month of December, the Rooster Mass schedule will be observed starting on Dec. 16th up to Christmas Day. Daily mass during that time will be held at 5 am.
Confessions: 4:00-4:45pm on Saturdays at St. Damien.
Office Hours: Tuesdays to Fridays, 9:00 am – 12 Noon, Damien Center
For the Lent and Advent mass time schedule, please check the 'mass times' section of this website or visit our Facebook page.
Today on the "topside" of Molokai, the Saint Damien Catholic Parish, lives as "ohana" (family) serving God, serving each other and the greater world community. We endeavor in our own small ways, in our daily lives, to live Jesus' gospel message, that we are each called to build the kingdom of God here on earth. We do that in our daily work, in our extension of friendship and charity to those in need. Our goal and mission is, like Father Damien, to give without counting the cost, without expectation of thanks, and without judgment of those we serve.



One of the primary missions of the parish is to serve as a resource to visitors and pilgrims to Molokai who come to learn the Father Damien story. In 2011, after 16 years of planning, praying and fundraising, the parish completed the construction of and dedicated to God the new Saint Damien of Molokai Church. The new Saint Damien Church stands in the main town of Kaunakakai, in the center of Molokai and serves as the parish's primary worship space and as a gathering place for visitors and pilgrims who come to learn the Father Damien story.
St. Sophia Church
Before the St. Damien Church was built, a smaller and older church existed-St. Sophia Church. The St. Sophia church was built in 1937 on the site of an earlier smaller chapel. It was said to be named to honor Sophie Cooke, who donated $1,000 to build it, a large sum in those days. On Feb. 11, 2010, it was destroyed by a fire. The parish had been raising money for over a decade to build a new church and St. Sophia was slated to come down in the later part of the year. The parish has about 300 families. Four out of five Molokai's Catholic parishioners went to Mass at St. Sophia. The 1,852-square-foot church held about 120 people, and by 2010, it could not accommodate it's parishioners without having overflow. In December 2011, the new church, St. Damien was dedicated to God.
St Sophia's baptism Font and tabernacle were kept along with some artifacts such as the charred crucifix, stations of the cross and others items are buried under the new altar and the old relic is entombed into one of  the walls of the new structure.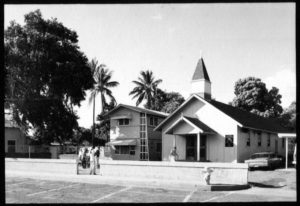 St. Sophia church circa 1950's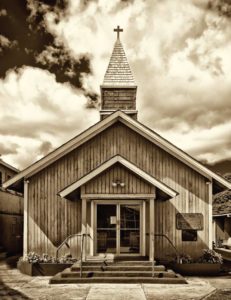 St. Sophia church before the fire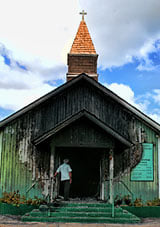 St. Sophia church after the fire (Fr. Clyde looking at the damage)
Saint Damien Church Prayer



At the beginning of Mass in the Saint Damien Parish, we pray a Prayer of Thanksgiving for our Saint Damien of Molokai Church.



Lord Jesus, You are the living cornerstone of God our Father and you call us to worship in spirit and truth.


We come before You with humble hearts overflowing with gratitude for you have heard our prayer and looked with favor on our hearts' request to build a house of prayer for us in the name of Saint Damien, Servant of Molokai.


In great thanksgiving we will always sing songs of praise, tell the stories of our salvation and share a sacred meal in our new house of worship, the Saint Damien of Molokai Church.


All of this we pray in your name, Jesus the Christ. Amen.



Saint Damien, Pray for us.
"I do my best to plant and water the fields that my Divine Savior has
confided to me … You must assist in this exceptional mission of mine."
– From the letters of Father Damien –