(recounting the stories of 100 patients from the past 100 years-story is from the Kalaupapa National Historic Park Facebook Timeline Nov. 2, 2016)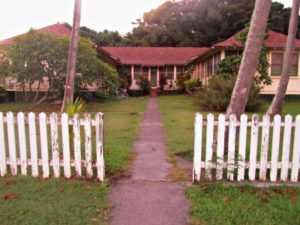 One Sunday evening Henry was invited to a 6 'o clock dinner at the Nurses or Staff Quarters. Until 1969, all of Staff Row was off-limits to patients and they were not allowed to go beyond the white picket fence that marked the boundary. At 6:20 p.m., Henry had not yet arrived and it wasn't like him to be late. Worried, everyone went out to look for him. There was Henry, standing just outside the gate, tears streaming down his face. It had been ingrained in him since a young boy not to cross over the line and he just couldn't make himself do it. The hostess gently took one arm and her guest took the other arm and they stepped across the line together. It was a triumphant moment for Henry in overcoming his fear and stigma of Hansen's disease. (Story shared by Keith Fukuda to KMcGuire).
If you know more about this person or would like to submit a search request for `ohana sent to Kalaupapa, please contact Kaohulani_McGuire@nps.gov.